July 13, 2023--- As the 2022 champion of the "Maker in China" (MiC) SME Innovation and Entrepreneurship Global Contest 2022 - Wizpresso is pleased to support this year's competition recruitment process. In a recent interview with Cyberport, Calvin, our founder and CEO, shared how MiC accelerated the adoption of our software - Factify.
"More than 15 international law firms in Hong Kong use Wizpresso's solution for IPOs, representing over 60% of the market. Winning the contest has accelerated Wizpresso's go-to-market strategy and opened up new opportunities to foster a stronger international network," said Calvin.
Wizpresso encourages aspiring technology companies to participate in the upcoming contest. If you wish to learn more about the competition, join the upcoming information session featuring Wizpresso and other previous winners. For more details, please refer to the poster below.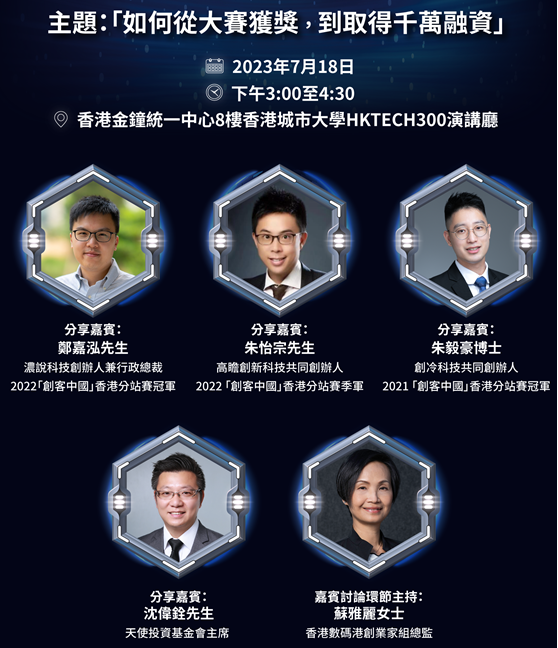 Press Release:
Chinese: https://www.smeiegc.hk/wp-content/uploads/%E6%95%B8%E7%A2%BC%E6%B8%AF%E6%96%B0%E8%81%9E%E7%A8%BF%E3%80%8C%E5%89%B5%E5%AE%A2%E4%B8%AD%E5%9C%8B%E3%80%8D%E9%A6%99%E6%B8%AF%E5%88%86%E7%AB%99%E8%B3%BD%E5%8D%B3%E6%97%A5%E8%B5%B7%E6%8E%A5%E5%8F%97%E5%A0%B1%E5%90%8D.pdf
English: https://www.smeiegc.hk/wp-content/uploads/Cyberport-Press-ReleaseMaker-in-China-Hong-Kong-Chapter-Calls-for-Entries-Today.pdf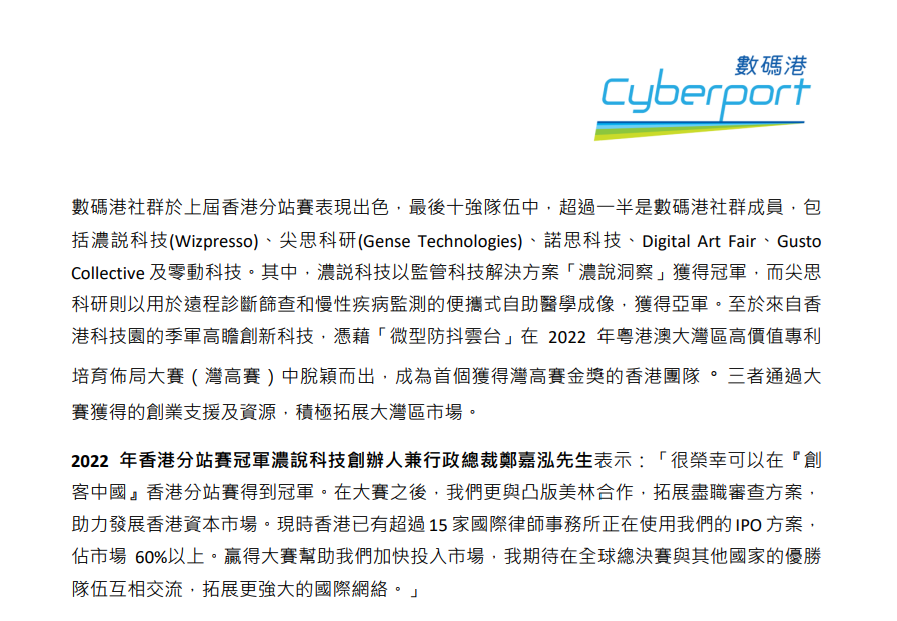 Cyberport---Cyberport is a digital community managed by Hong Kong Cyberport Management Company, wholly owned by the Hong Kong SAR Government. It cultivates talent, supports startups, fosters industry development, and accelerates digital adoption. Cyberport focuses on major technology trends and emerging technology to transform Hong Kong into a smart city. It is the flagship of Hong Kong's digital technology industry.

"Maker in China" SME Innovation and Entrepreneurship Global Contest---Focally directed by the Ministry of Industry and Information Technology of the People's Republic of China (MIIT), is an annual global contest aiming at connecting innovative technologies with enterprises, innovation, and technology (I&T) projects with industrial parks, marketing operation with government policies, and facilitating collaborative innovation in the industry and industrial upgrading.