Hong Kong - 29 Nov 2021 - Wizpresso is honored to be crowned 'FinTech Grand Award', the highest Fintech recognition in Hong Kong ICT Awards 2021 organized by the Office of the Government Chief Information Officer (OGCIO) and The Hong Kong Institute of Bankers (HKIB). Apart from the grand award, Wizpresso's Factify has also won a Gold Award in the Regulatory Technology and Risk Management category of FinTech, signifying the importance of adopting technology amongst Hong Kong capital markets practitioners.
About HKICT Awards
Since 2006, The HKICT Awards aims at recognizing and promoting outstanding information and communications technology (ICT) inventions and applications in Hong Kong. In its' 15th year, the Award is an annual signature event in the local ICT industry, receiving a record-breaking 2,000+ applications in 2021. The FinTech Award Category is composed of three streams:
Banking, Insurance & Capital Markets,
Emerging Solutions,
Regulatory Technology and Risk Management.
Only not more than one Grand Award is nominated each year at the discretion of the Judging Panel.
Learn more: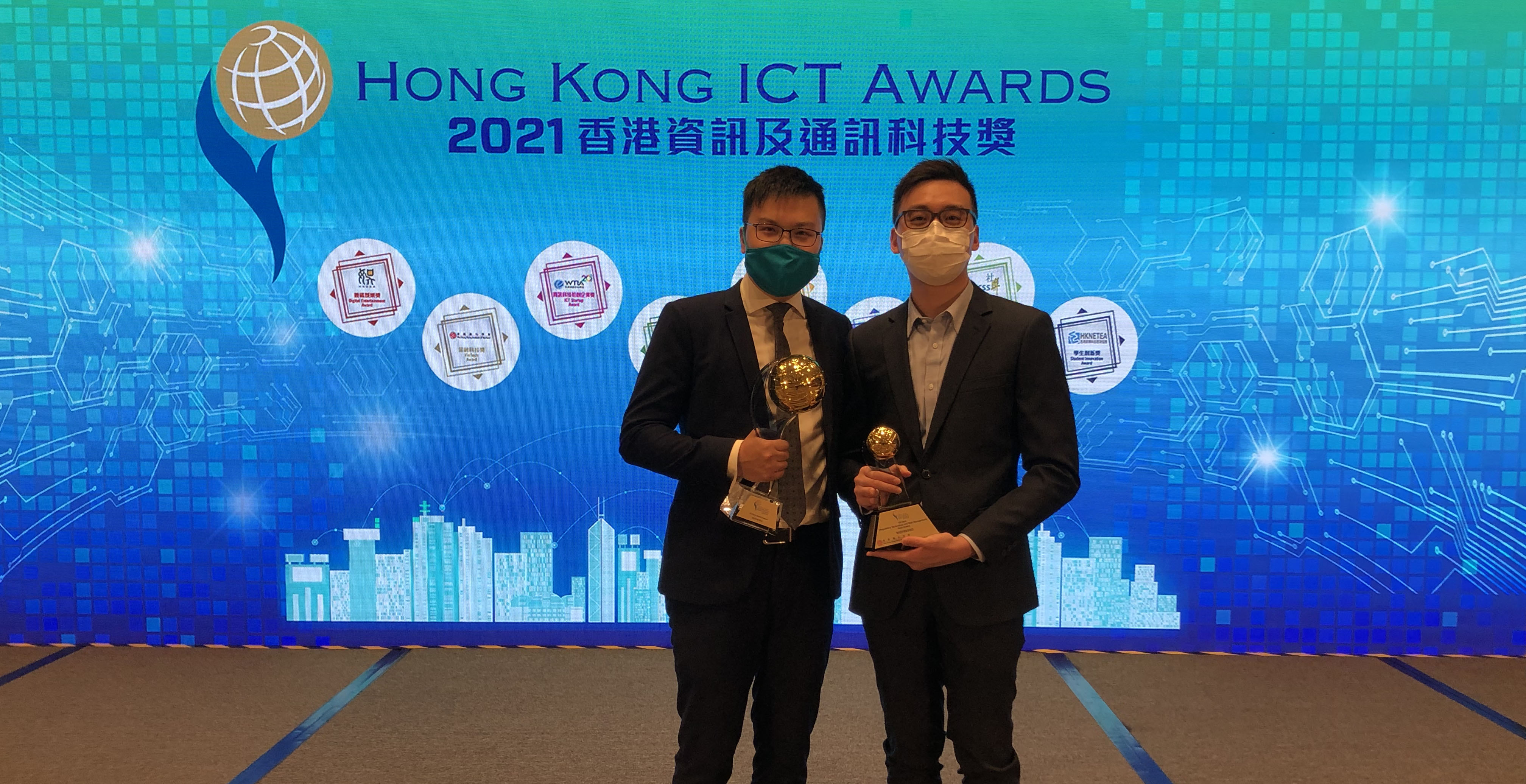 Calvin Cheng, Founder & CEO (left) and KT Chan, Head of Technology (right) at the HKICT Award ceremony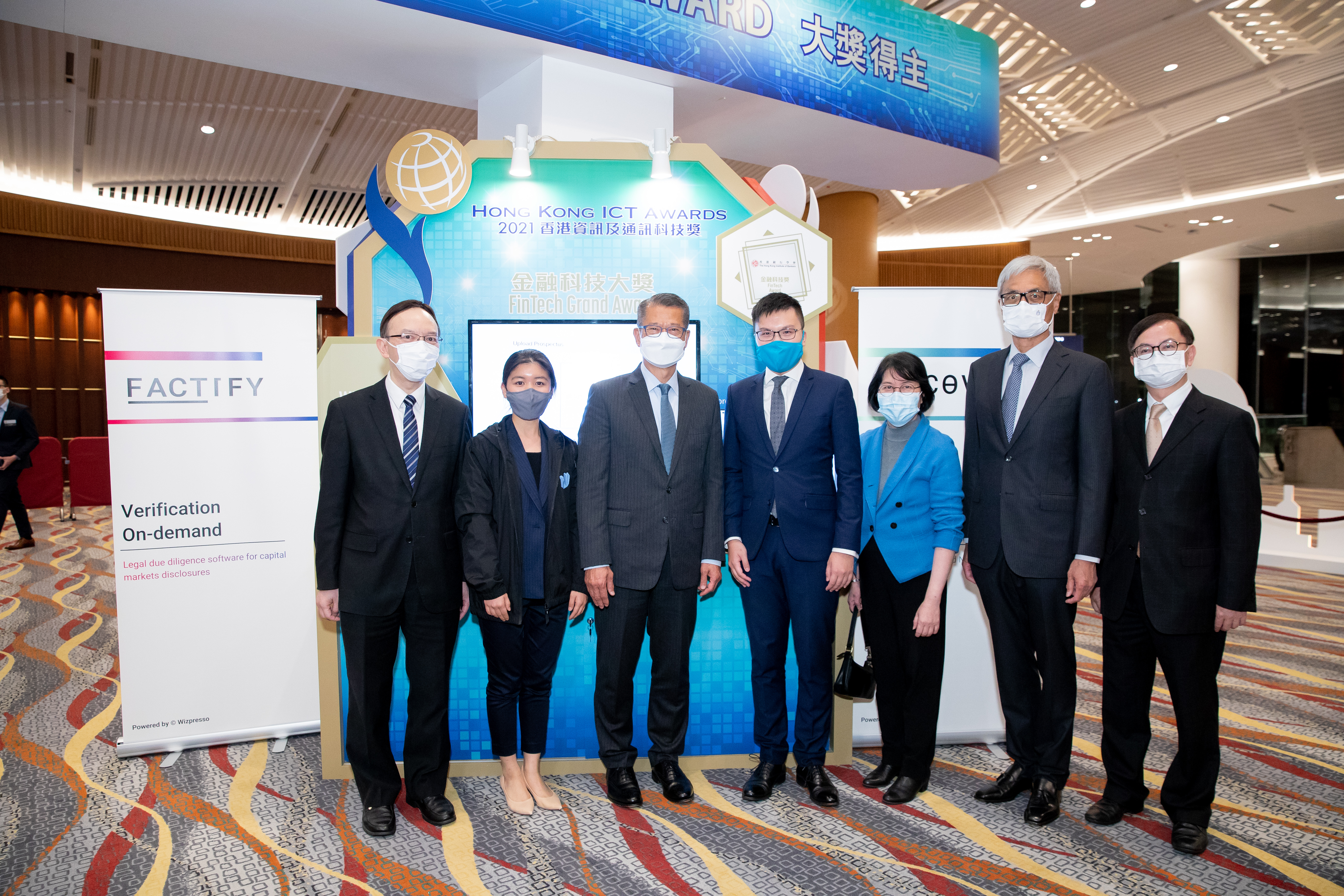 The Honorable Paul Chan Mo-po (Left 3), Financial Secretary of the HKSAR Government, visited the Wizpresso booth and learnt about our award-winning RegTech solution Factify, along with Mr. Victor Lam (Left 1), Government Chief Information Officer, Ms. Annie Choi (Right 3), Commissioner for Innovation and Technology, Professor Wei Shyy (Right 2), President of The Hong Kong University of Science and Technology and Mr. David Chung (Right 1), Under Secretary for Innovation and Technology of the HKSAR Government.
About The Hong Kong Institute of Bankers
The Hong Kong Institute of Bankers (HKIB) has been serving the local banking community in the provision of professional training and certification services since 1963. HKIB is the first not-for-profit institution in Hong Kong to issue banking qualifications and was appointed by the Education Bureau as a Professional Qualifications Assessment Agency in August 2020. With an objective to maintain and further develop the territory's status as an international financial centre, the Institute works with the support of banks, regulators, financial institutions, academic institutions and various professional bodies to provide local banking practitioners with professional training and development opportunities. In view of the changing landscape of the banking and financial services industry in Hong Kong and mainland China, as well as on a global scale, the importance of continuing to enhance the standards of professional development has gained increased attention. The HKIB endeavours to provide and enhance its training and development products in order to equip its members with essential knowledge and skills that meet the industry's needs.
About Wizpresso
Wizpresso is a RoboBanker SaaS platform that aims to transform capital markets workflow and empowers industry stakeholders. We develop technologies underpinned by NLP and deep learning to automate legal, financial, and business due diligence. We deliver value to users by removing communication barriers between participants, improving sales capacity, and enhancing market transparency.
Its clients range from global investment banks and law firms to local enterprises. Wizpresso is recognized as an industry leader by etnet's Fintech Awards 2019 and 2020, IFTA Fintech Awards 2020 and 2021, and ICT Fintech Awards 2020.
Visit wizpresso.com to learn more.