15 July 2022 - HK01
Wizpresso is pleased to partner with Hang Seng Index to co-create a solution that transforms the stock selection process for index formulation. The solution, powered by natural language processing and deep learning, enables asset managers to search and rank companies using keywords and over 1,500 customizable parameters.
Anita, CEO of Hang Seng Indexes, said: "This cooperation further enriches the company's product range and enhances its sophisticated index development capabilities, which will help meet the different needs of customers in terms of indices."
恒生指數公司行政總裁巫婉雯(Anita)表示:「這項合作進一步豐富公司的產品系列,提升精密指數開發能力,有助滿足客戶在指數上的不同需求。」
Calvin Cheng, CEO and founder of Wizpresso, said: "As an important indicator of the Hong Kong stock market, the Hang Seng Index has strict requirements on the accuracy of data, and the compilation process involves extensive review and due diligence. Our system covers 12 global markets, more than 28,000 listed companies, and over 50 million disclosures. The solution enables Hang Seng Indexes to extract a large amount of information and conduct data analysis through company disclosures to compile sophisticated thematic indices within minutes."
Wizpresso濃說科技行政總裁兼創辦人鄭嘉泓 (Calvin) 表示:「恒生指數作為香港股票市場的重要指標,對數據準確性有嚴格要求,編制工序涉及大量審查和盡職調查。我們的系統覆蓋全球12個股票市場、28,000多家上市公司及5千多萬份披露資訊。恒生指數公司可透過上市公司披露資料提取大量信息並進行數據分析,以編制精密主題指數。」
Read more: https://www.hk01.com/社會新聞/791887/恒生指數公司夥數碼港初創開啟指數管理新篇章?utm_source=01webshare&utm_medium=referral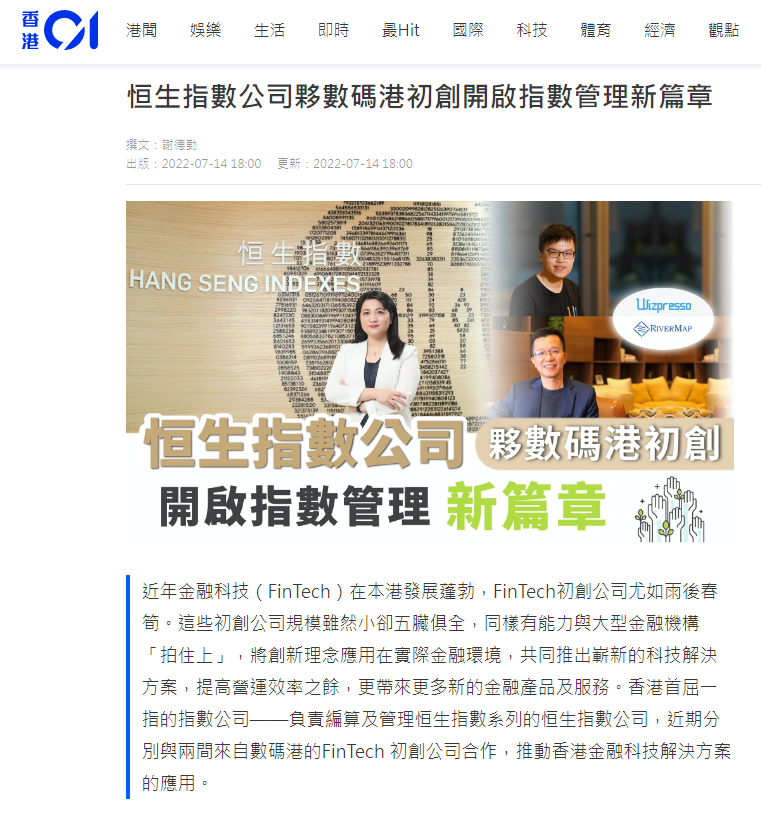 About Hang Seng Indexes Company Limited
Hang Seng Indexes Company Limited ('Hang Seng Indexes Company') manages and compiles the Hang Seng Family of Indexes, which cover stocks listed in Hong Kong and Mainland China. Hang Seng Indexes Company's index series includes the Hang Seng Index, the Hang Seng China Enterprises Index and the Hang Seng TECH Index, as well as Stock Connect, Greater Bay Area and sector-related indexes. As at the end of 2021, assets under management in products passively tracking indexes in the Hang Seng Family of Indexes had reached a total of about USD44 billion.
About HK01
HK01 is a Hong Kong-based online news portal launched by Yu Pun-hoi, former chairman of the Ming Pao. It is operated by HK01 Company Limited, established in June 2015. The website went live on 11 January 2016. It publishes a weekly paper every Friday.