WIZPRESSO's search app version 3.2.0 upgrade makes it easy for anyone to search relevant insights from millions of filings in seconds!
WIZPRESSO's new semantic search is here!
One of the major hurdles with traditional market intelligence platforms is that the user must learn how to navigate and find information in a specific way before they can fully utilize them. WIZPRESSO empowers users to find information using natural language, similar to how you would search on Google. The intuitiveness of WIZPRESSO's search experience and user interface significantly flattens the user-platform learning curve. In addition, WIZPRESSO lets you fact-check and extract information directly from the source documents. To illustrate the capabilities of WIZPRESSO, I will compare the search results from Google and our platform using the following examples.
GOOGLE vs WIZPRESSO Search
ROUND ONE - analyzing a company's operating performance (Tencent):
Let's say you are a research analyst in TMT would like to find out how much Tencent's app monthly active users (MAU) has grown recently. I went on Google to search Tencent MAU and here are the results: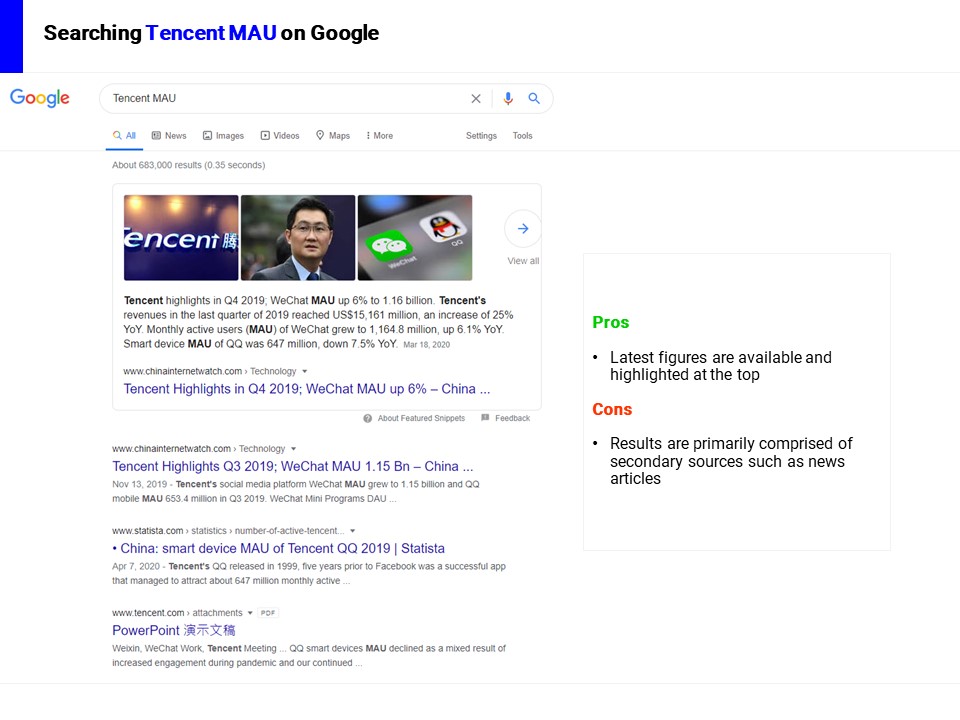 The top result is helpful in showing the latest MAU figure and % change for WeChat, one of the most popular platforms of Tencent. However, the information came from a news article which is not as credible as an official announcement and thus cannot be referenced by professional analysts.
Now, let's try searching the same query Tencent MAU on our platform: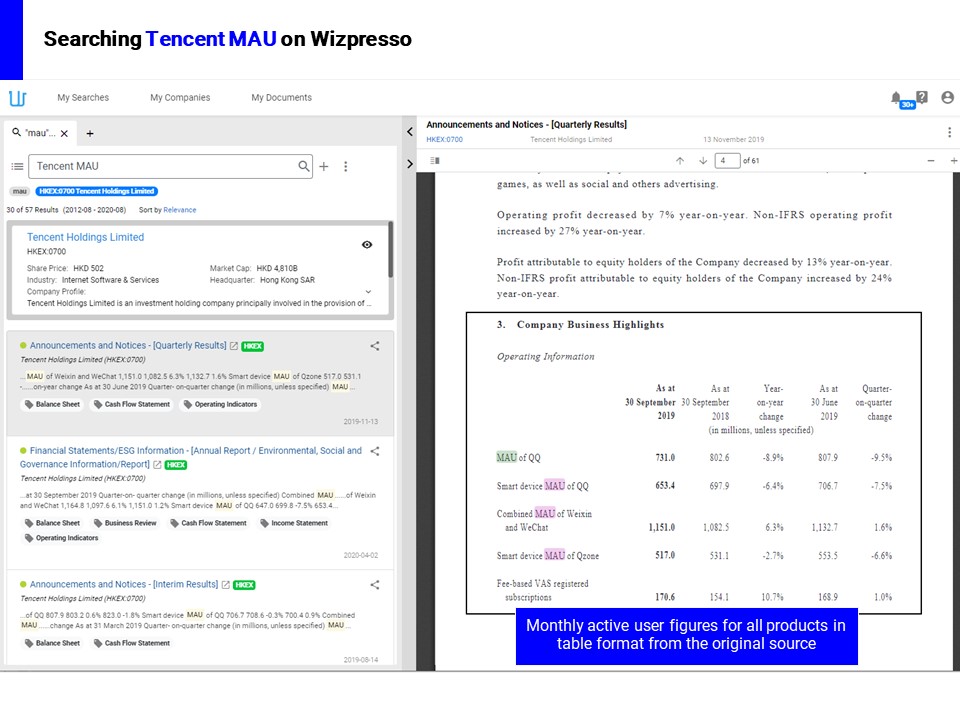 You now have better visibility on a company's operating performance
The top result provides a detailed year-on-year comparison of MAU across Tencent's products. In addition, the information comes from an official filing that can be referenced by professional analysts in work materials. See the results for yourself.
ROUND ONE: I'll call this a tie!
ROUND TWO - analyzing a company's operating performance (Cathay Pacific)
Now, let's try searching for something more sector-specific and see what happens. Suppose you work in asset finance or aviation and would like to find out how a particular airline is performing. Since we are based in Hong Kong, let's search for Cathay Pacific's revenue passenger kilometer (RPK), a commonly used operating indicator in the airline industry.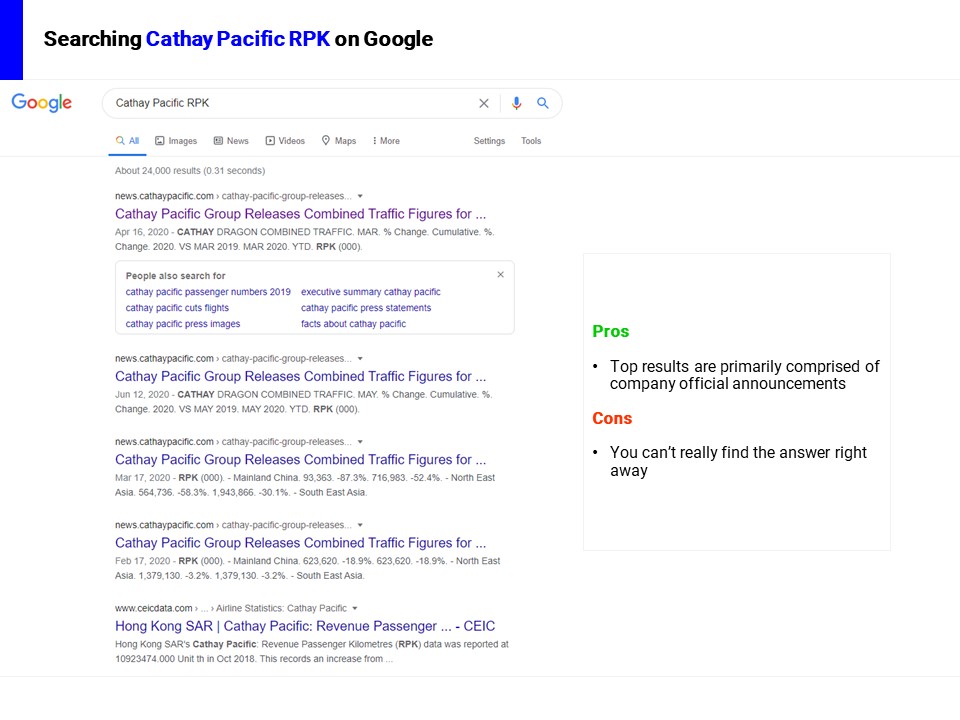 This time, Google returns results directly linked to Cathay Pacific's official announcements. However, you can't really find any useful figures just by looking at the search results. Searching Cathay Pacific RPK on WIZPRESSO: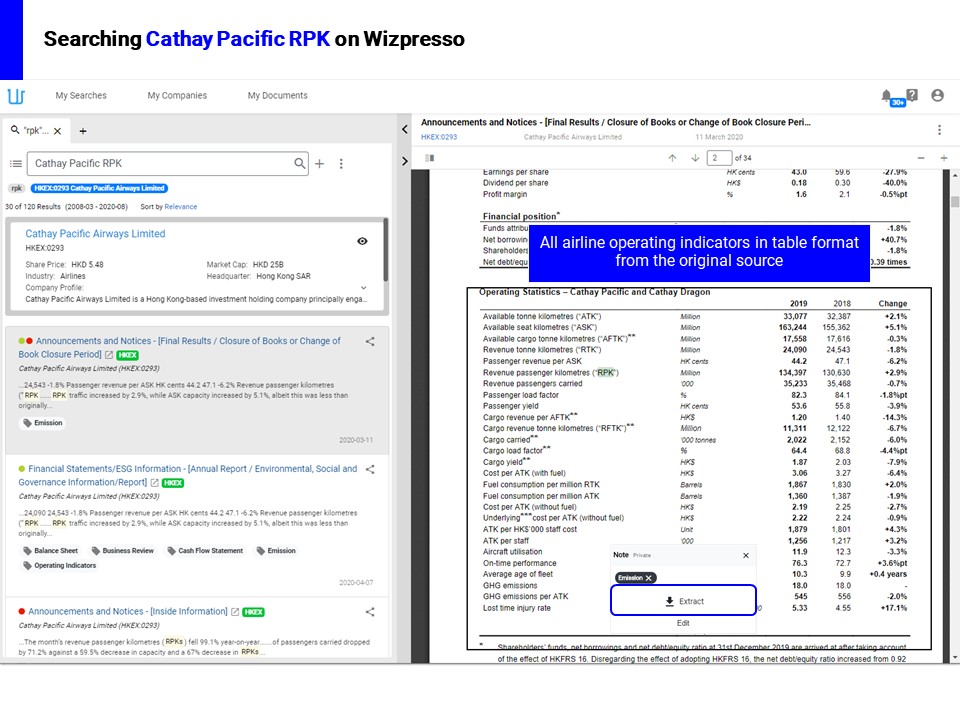 The top result refers to the Operating Statistics found in Cathay's latest annual results. Apart from RPK, this table also summarizes other key operating statistics including available tonne kilometers (ATK), available seat kilometers (ASK) and revenue tonne kilometers (RTK), etc. See the results for yourself. In addition, you can extract the table into Excel with a click: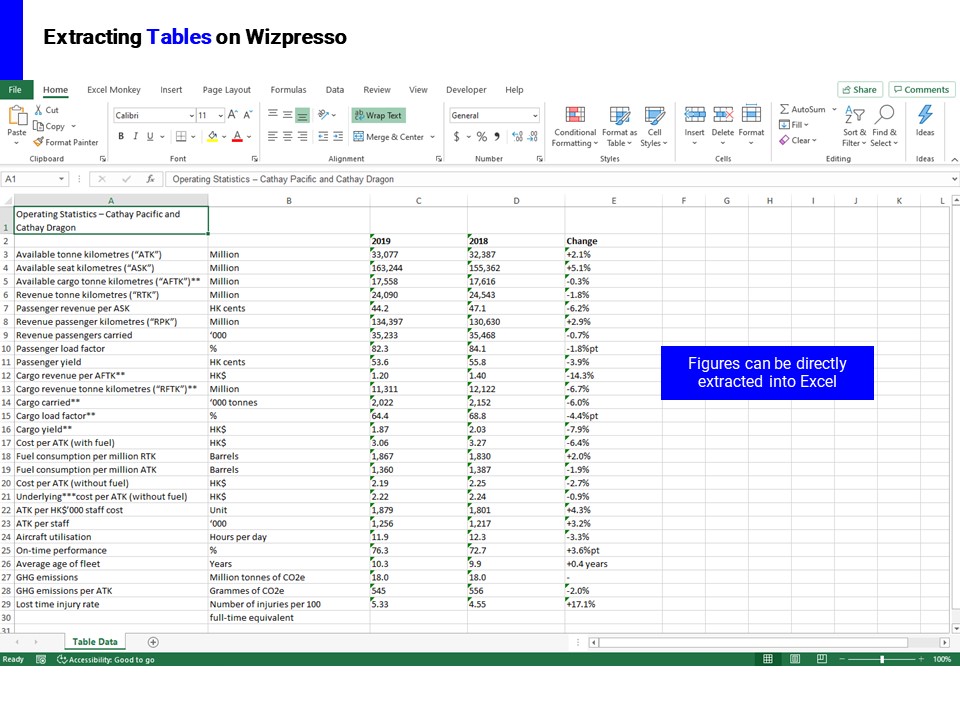 You no longer have to copy and paste numbers into a table
In less than 30 seconds, you went from finding information to having all the useful data in your grasp.
ROUND TWO: WIZPRESSO wins on this one.
ROUND THREE - Searching for a company's annual reports in a specific time period
Beyond finding specific operating indicators, you can also find relevant documents easily on WIZPRESSO. Suppose you are gathering filings of HSBC (or any specific company) from the past 7 years for your team. First, you may attempt to look on Google: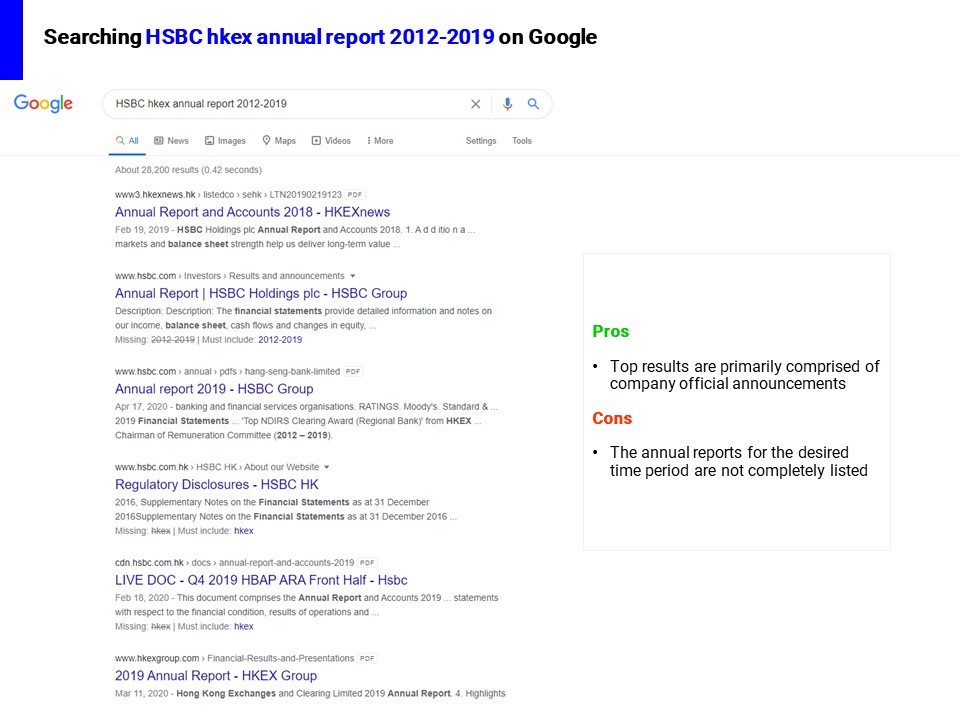 Since the query is not commonly searched for, Google naturally prioritized on the latest search results and failed to provide you with a list of relevant documents. Searching the same query HSBC hkex annual report 2012-2019 on WIZPRESSO: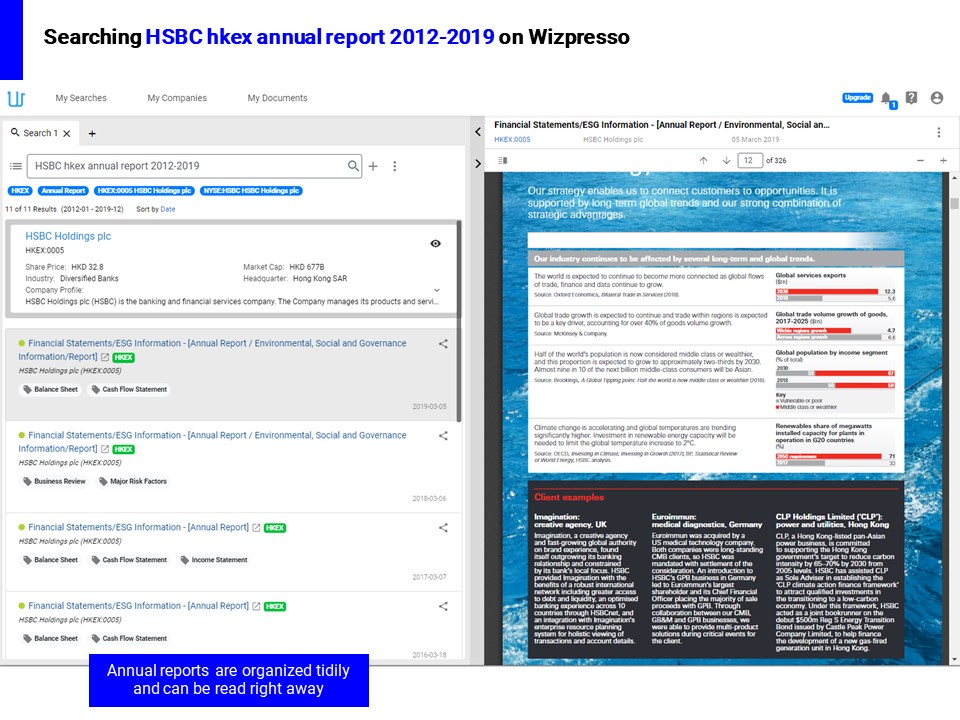 Your filings and documents are never more organized
Immediately, WIZPRESSO recognizes that you are looking for a specific type of document for a company in a certain time period. You can easily download all the relevant documents onto your computer or save them into the built-in document management system right away, completing your task in a fraction of the time originally required.
ROUND THREE: WIZPRESSO also scores on this one!
We hope you enjoyed this new upgrade and we are excited about how this can help analysts save tons of time. Please let me know your feedback and we will continue to improve your search experience. If you have any questions, feel free to reach out to us at WIZPRESSO. Go Searching!
If you haven't already created your WIZPRESSO account, you can do so here.
Calvin
About us
Wizpresso is an AI-driven technology company that aims to improve and automate research, business processes, and risk management capabilities for financial institutions and businesses. Our technology helps organize and extract insights from internal and external information. We deliver value by providing market intelligence, content extraction tools, and workflow-oriented platforms to help professionals increase efficiencies, predict performances, and manage risks.
Our clients range from global investment banks and law firms to local SME enterprises. Wizpresso is an alumnus of Cyberport's Incubation Programme and is recognized as an outstanding artificial intelligence company by etnet's Fintech Awards 2019 and IFTA's Fintech Achievement Awards 2020.
Visit wizpresso.com to learn more